Conveying Systems for the Baking & Confectionary Industry
For over 60 years, Laughlin has designed and manufactured high-quality conveying systems for the baking & confectionery industry, offering a variety of solutions for raw and packaged products of all types. What separates us in this field is our dedication to manufacturing a conveyor system that is as hygienic as it is durable, leaving no questions as to the efficacy & safety of the customer's manufacturing line.
By relying on high-grade stainless steel, superior welding techniques, and a clean/tubular open-frame design, these conveyors are constructed to: (a) eliminate any surfaces or harbor points for water or food to accumulate; and (b) easily withstand the rigorous cleaning operations demanded by the industry. Therefore, the customer can guarantee a long-lasting, bacteria/corrosion-resistant conveyor that can withstand any meat or poultry environment, no matter how wet or cold.
Whether helping facilitate a product introduction or adding on to a previous product line, Laughlin offers a variety of sanitary, stainless steel options for your specific baking & confectionery requirements.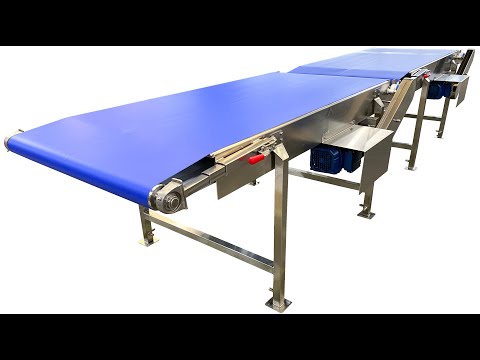 Benefits of Laughlin's Baking & Confectionery Conveyors
Hygienic design to ensure manufacturing throughputs, efficiencies, and safety are
Constructed with precision welding, guaranteeing smooth and completely sealed welds (elimination of crevices and scratches) to ensure no product accumulation or bacteria
Sanitation features also include clean out portals, using welded standoffs for bearings and other parts, angled drip pans, and more
Quick and easy sanitation/maintenance
Custom drive and control options for both high and low volume manufacturing environments
Constructed with the highest quality materials and stainless steel
Capable of handling any product (wet, dry, hot, cold, frozen, etc.)
Agency compliant designs (USDA, FDA, etc.) available upon request
Laughlin's Baking & Confectionary Experience Includes the Following Applications
Transferring, Feeding, Loading
Diverting & Sorting
Single Filing
Indexing, Weighing, Counting
Cleaning-In-Place
Accumulating & Orienting
Package Handling
Automatic Case Erecting
Laughlin Has Experience With Products Such As
Dough
Pastries
Cereal
Cookies
Ice Cream Cones
Bread
Pies
Chips
Bars
Crackers
Gum
Chocolate
Candies
CONTACT US TODAY TO FIND YOUR SOLUTION
Large or small, simple or unusual, Laughlin Conveyors thrives on the challenge of manufacturing conveyors tailored to the customer's needs.
Contact Us Today
Conveyors for Baking & Confectionery
The following conveyors are utilized in the Baking & Confectionery Industry: