Incline & Elevator Conveyors
Whether inclining, elevating, lowering, or horizontally conveying your products, Laughlin offers an assortment of solutions tailored to your application. Coming in a variety of sizes and styles, these conveyors can be suited for essentially any food application, whether fresh, dry, or frozen.
By utilizing a variety of modular and thermoplastic belt options, these conveyors are manufactured to reduce product damage and spills, prevent bacteria and biofilm buildup, and most importantly ease sanitation procedures.
At Laughlin, we work directly with each individual customer to design our incline & elevator conveyors to your exact conveying application. This custom approach to design means that all facility floor space will be maximized, whether integrating a conveyor into an existing line or starting a new product line altogether.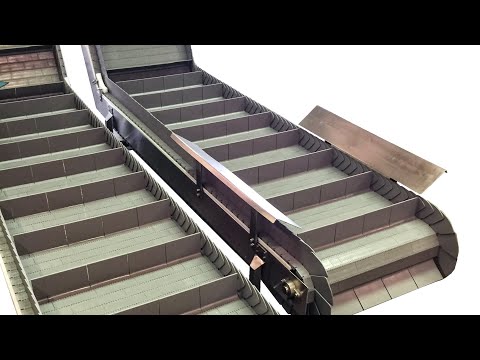 Features & Specifications
Width and length are custom built to suit your applications
Choose between a variety of belts, from thermoplastic elastomer (TPE) positive composition belts, to modular belts with scoop flights
Multiple clean-in-place (CIP) options available
Multiple product transfer options available
Multiple side guide options available
Custom drive and control options for both high and low volume manufacturing environments
Washdown, USDA, Dairy and Pharmaceutical models are available
Constructed with Laughlin's high standard of durability, using heavy-duty 304 stainless steel frame and tubular legs (316 stainless steel is also available)
Incline & Elevator Conveyor Add-Ons
Clean-In-Place (CIP) Systems
Catch/drip pans
Guides
Covers
Chutes
Deviators
And more...
CONTACT US TODAY TO FIND YOUR SOLUTION
Large or small, simple or unusual, Laughlin Conveyors thrives on the challenge of manufacturing conveyors tailored to the customer's needs.
Contact Us Today
Industries Served
Laughlin's Incline & Elevator Conveyors are utilized in the following industries: