Sanitary Metal Belt Conveyors
Rod Style Metal Belt Conveyors
Laughlin's Sanitary Metal Belt Conveyors are simple in design, but solid in structure, capable of handling both extremely high and low temperatures, all while remaining corrosion and rust resistant. This rigid design allows these conveyors to gently handle a variety of products, whether raw, fresh, cooked, or frozen, in a variety of applications, from food processing (cooling, washing, drying, etc.) to product sorting and handling.
Depending upon your application, Laughlin constructs these conveyors with flat wire belts, rod style belts, and wire belts. These belt's open-airflow design makes them easy to clean and easy to replace, which ultimately means low maintenance costs for the customer.
Like all Laughlin conveying options, our Sanitary Metal Belt Conveyors are extremely customizable, capable of both straights and curves, and an assortment of transfer capabilities.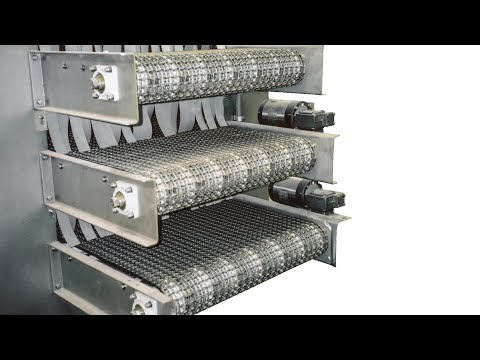 Features & Specifications
Easy to install, easy to clean, easy to replace
Straight runs and curves with 30" radius available
Wide range of belt widths available
Wide range of transfer options available
Wide range of fixed and adjustable guide rails available
Choose between flat wire belt, rod style belt, and wire belt
USDA models available for meat and poultry products
Constructed with Laughlin's high standard of durability, using heavy-duty 304 stainless steel frame and tubular legs (316 stainless steel is also available)
Sanitary Metal Belt Conveyor Add-ons
Clean-In-Place (CIP) Systems
Drip Pans
Cutting Boards
Guides
Pneumatic Stops
Covers
Chutes
Deviators
And more...
CONTACT US TODAY TO FIND YOUR SOLUTION
Large or small, simple or unusual, Laughlin Conveyors thrives on the challenge of manufacturing conveyors tailored to the customer's needs.
Contact Us Today
Industries Served
Laughlin's Sanitary Metal Belt Conveyors are utilized in the following industries: