Pack-Off Accumulation Tables
While Laughlin's Pack-Off Accumulation Tables can offer a viable solution to your pack-off needs, often the customer needs a larger option to handle a larger/faster production line. This is where Laughlin's Pack-off Accumulation Tables make their mark.
Designed as a hybrid between our Table Top and Container Accumulation systems, Laughlin's Pack-off Accumulation Tables are configured to carry multiple rows of filled products (bottles, cans, vials, etc.) in opposite directions, allowing products to accumulate/recirculate on the table for an operator to then pack-off. Unlike rotary tables, this system can be as long and handle as much product as necessary.
Given their ability to be configured with a variety in-feed options, these tables are proven solutions for bottleneck issues, keeping production moving, and increasing the efficiency of the entire line.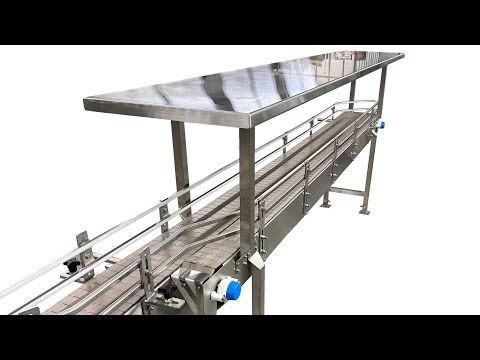 Features & Specifications
These pack-off accumulation tables can be equipped with a variety of features to suit your particular operation such as:
Width and length are custom built to suit your applications
Choose between a modular plastic belt or table top belt
Multiple infeed/outfeed options available
Multiple product transfer options available
Wide array of options for product orienting and side guide equipment
Washdown, USDA, Dairy and Pharmaceutical models are available
Constructed with Laughlin's high standard of durability, using heavy-duty 304 stainless steel frame and tubular legs (316 stainless steel is also available)
Pack-off Accumulation Table Add-ons
Clean-In-Place (CIP) Systems
Drip Pans
Guides
Pneumatic Stops
Covers
Chutes
Deviators
And more...
CONTACT US TODAY TO FIND YOUR SOLUTION
Large or small, simple or unusual, Laughlin Conveyors thrives on the challenge of manufacturing conveyors tailored to the customer's needs.
Contact Us Today
Industries Served
Laughlin's Pack-Off Accumulation Tables are utilized in the following industries: