Table Top Chain Conveyors
Laughlin's Table Top Conveyors are custom tailored to maximize your single-file transportation needs. These case conveyors are great for nearly every application, whether filling, weighing, inspecting, accumulating, turning, or packaging—and can be operated at a wide range of speeds. This adaptability makes these conveyors suitable for all industries, from the high-speed filling seen in the food & beverage industry, to the lower-speed transportation of pharmaceutical production.
Laughlin has been designing and manufacturing table top conveyors for over 60 years, for industries of nearly every origin. Whether needing straights, curves, inclines, or declines, our experience and design flexibility allows us to accommodate your
table top conveying needs.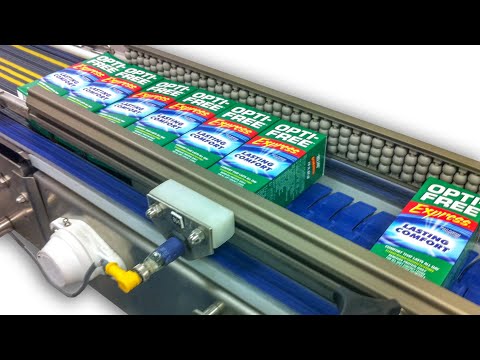 Features & Specifications
Easy to install
Capable of handling virtually any product (i.e. cans, glass, PET bottles with petaloid or base cup bottoms, rigid containers, packages, cases, trays, etc.)
Wide range of widths available (3-1/4" – 12")
Wide range of product transfer options available
Wide range of guide rail and product orienting options available (i.e. stainless half round or round rod guide rail)
Wide range of frame designs, including clean-top, open top, and abbreviated dairy style
Drip pans available
These versatile conveyors can be furnished as single units, complete systems, or manufactured to integrate into existing lines where similar design and style is necessary
Washdown, USDA, Dairy and Pharmaceutical models are available
Constructed with Laughlin's high standard of durability, using heavy-duty 304 stainless steel frame and tubular legs (316 stainless steel is also available)
Table Top Conveyor Add-ons
Clean-In-Place (CIP) Systems
Drip Pans
Cutting Boards
Guides
Pneumatic Stops
Covers
Chutes
Deviators
And more...
CONTACT US TODAY TO FIND YOUR SOLUTION
Large or small, simple or unusual, Laughlin Conveyors thrives on the challenge of manufacturing conveyors tailored to the customer's needs.
Contact Us Today
Industries Served
Laughlin's Table Top Conveyors are utilized in the following industries: