Thermoplastic Belt Conveyors
Thermoplastic Belt Conveyors
Laughlin Conveyor understands that food manufacturers expect the highest standard in food safety risk mitigation. With our Thermoplastic Belt Conveyors, we incorporate the highest level of hygienic conveyor construction. Whether manufacturing meat & poultry, seafood, fruits & vegetables, or smaller snack items, Laughlin custom tailors these conveyors to meet your food-processing needs.
By incorporating homogenous thermoplastic (TPE/TPU positive) belts with a crevice-free surface, our Thermoplastic Belt Conveyor's guarantee the prevention of bacteria and biofilm buildup. These belt's light weight design combined with Laughlin's open-access design that makes cleaning in place achievable. For the customer this means less sanitation time (i.e. less shift changeover), less maintenance, and an altogether cleaner, healthier product with maximum shelf life.
Laughlin's Thermoplastic Belt Conveyors are available for a wide range of applications (processing to warehouse) and can be furnished with an unlimited range of standard or special features.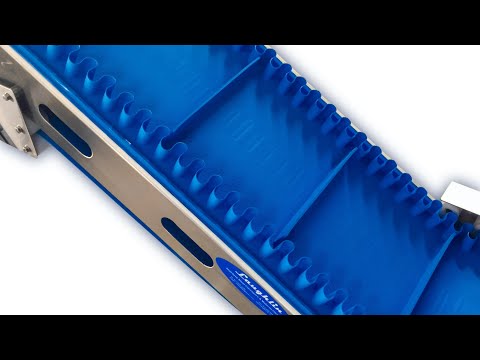 Features & Specifications
This conveyor style can be furnished with an unlimited range of standard and special features such as:
Choose from a variety of thermoplastic (TPE/TPU positive) composition belt types and styles, including the Intralox ThermoDrive and the Volta SuperDrive
Wide range of side-guide configurations available
"Clean-in-place" systems, drip pans, and casters are available
Numerous belt bed and side guide configurations available
Choose between an end drive or center drive model
Washdown, USDA, Dairy and Pharmaceutical models are available
Constructed with Laughlin's high standard of durability, using heavy-duty 304 stainless steel frame and tubular legs (316 stainless steel is also available) 
Thermoplastic Belt Conveyors Add-ons
Clean-In-Place (CIP) Systems
Drip Pans
Guides
Pneumatic Stops
Covers
Chutes
Deviators
And more...
CONTACT US TODAY TO FIND YOUR SOLUTION
Large or small, simple or unusual, Laughlin Conveyors thrives on the challenge of manufacturing conveyors tailored to the customer's needs.
Contact Us Today
Industries Served
Laughlin's Thermoplastic Belt Conveyors are utilized in the following industries: